2003 Didgeridoo Competition Winner!
And the Winner is ...
Katsumi Kaneyuki
Congratulations and we are glad it went to someone who will appreciate it - also most of you would have certainly done so as well, but short of cutting the didj into small slices there can be only one winner. Katsumi is a Japanese working in Bundaberg as a diving instructor. Bundaberg is about 1500km south from here so this year the didj stays not only in Australia but even in our state, Queensland!!! Katsumi received the didj already and emailed us with a quick note: "I went back to Bundaberg last night and got didj. In the morning today. Thank you for such a very beautiful didj. I will send picture of me with this didj. Within 2 weeks."
We just got Katsumi's comment and pictures, so here they are: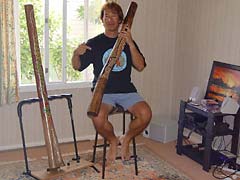 "Dear Didjshop,
I am a scuba diving instructor working on the Southern Great Barrier Reef. Playing didj is my one of hobbies, it reduces my stress.
I bought a beautiful sounding didj from you last year and I am very happy with my didj.
It was a big surprise when I got an email which said I am a lucky winner of the 2003 price didgeridoo. I got the price didgeridoo in the middle of this month, it is very beautiful.
I have some didjes already, but this didj is in another key. The sound is just gorgeous. I like this didj and I will keep playing with it.
Thank you Didjshop."
Katsumi Kaneyuki
Home | About Us | Checkout | Community | Help | Information | Shopping
Didj Forum | Win a Concert Class Didj | Send a Didj Greeting Card | Guest Book